The meeting will be held at the Gran Sasso Science Institute (GSSI), an international PhD school and a center for research and higher education in Physics, Mathematics, Computer Science and Social Sciences.
Sessions will take place in the Auditorium, located in the Rectorate Building Via Michele Iacobucci 2 - 67100 L'Aquila.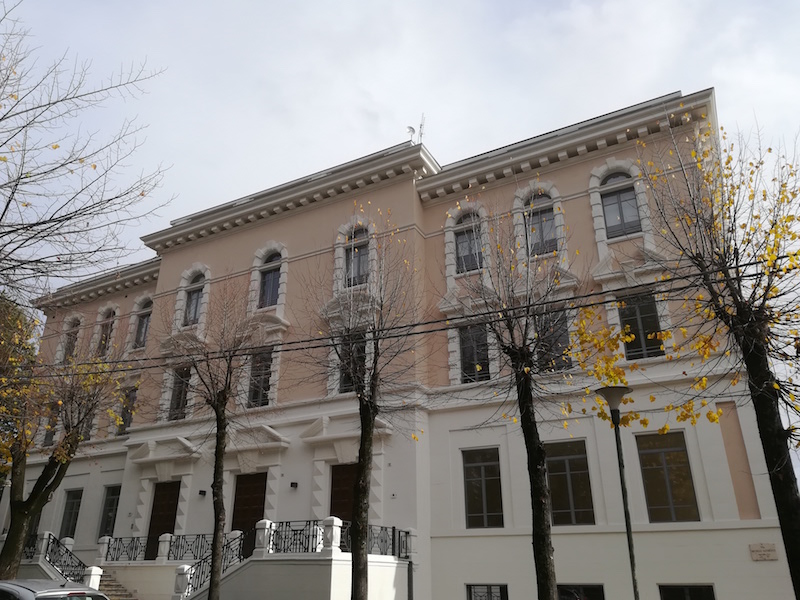 GSSI is located in the heart of L'Aquila historic city centre. L'Aquila is a city in the centre of Italy, at about 110 Km to the east of Rome. The city is positioned at a height of 721 m above sea level in a valley, surrounded by the Appenine Mountains, with the Gran Sasso to the north east.
How to reach
L'Aquila can be reached by flight, rail, or road. Detailed travel information about how to reach L'Aquila and the GSSI can be found below.
By airplane + bus
The closest airports are located in Rome (Fiumicino Airport - Ciampino Airport) and in Pescara (Aeroporto d'Abruzzo). An express coach service directly connects both Fiumicino and Ciampino Airports to L'Aquila, operated by Gaspari bus company. The trip takes about 2h from Fiumicino and 1h45m from Ciampino. You can find timetable and fares info on www.gasparionline.it/en. Tickets may be bought online or directly on the bus.
When in L'Aquila, Gaspari buses stop at Hotel Amiternum, about 3 km far from GSSI. From there you can take any bus going towards the city center and get off at Collemaggio Terminal Bus, which is 10 mins walking from GSSI. Also taxi cabs are normally available at Hotel Amiternum. You can also call radio-taxi company (+39 0862 25165, web: www.radiotaxilaquila.it). It would cost around 6-10 € depending on traffic or day/night fare.
From Rome Fiumicino airport you can also use the train to the station Roma Tirburtina (about 35 minutes) and take a bus to L'Aquila (about 1h30min): see train+bus.
By train + bus
While L'Aquila rail station is not well connected, frequent bus connections are available from the train station Rome Tiburtina in Rome. This station is served with frequent high-speed service by both main Italian rail companies (Trenitalia and Italo). If your train only stops in another station, e.g. Roma Termini, take the metro (line B) to reach Roma Tiburtina.
Buses from Rome Tiburtina are offered (among others) by TUA, Flixbus and Gaspari (about 1h30m). The bus parking lot is in front of the station's main entrance. Buses offered by TUA are the most convenient since they arrive at Collemagio Terminal Bus (about 500m from GSSI), while Gaspari and Flibux buses arrive at Hotel Amiternum.
For more information about how to reach the GSSI from the bus stops in L'Aquila see airplane instructions above.
By car
Among other solutions, drivers can take the A24 highway and take the exit "L'Aquila Ovest" or "L'Aquila Est". Then, follow the road signs to the city center and, in particular, those with the logo of the GSSI.
By train
This is may be the less convenient solution if you are in a hurry, but the small trains that climb the mountains up to L'Aquila from Terni or Sulmona will bring you through really wonderful landscapes. Visit the Trenitalia site for timetables. From the L'Aquila train station take a bus or a taxi to GSSI.